This is an excerpt from a blog originally written maybe two years or so ago now needing an interesting update.
I was living in Portland at the time and was down in LA.  I have removed the preamble. That night came to mind as, fast forward, I find myself unexpectedly  back in Detroit , building a new life in my hometown, feeling a bit unsorted over the change but, oddly, my "current" life has found itself in familiar territory with a different location. I could not have done a better job if I were a magician. 
You'll see. Read on. ...
The Past. 
One night I was in my hotel in Hollywood and decided to take a walk before bed. I knew my way around as the hotel was in an old Hollywood neighborhood of mine. So, off in wrinkled clothes I went, very tired with messed up hair and super hungry for dinner. I figured I'd only be gone for a few minutes and could eat later then pass out to sleep. Thing about this nite is that it was on a day I felt defeated. Things felt dark. I felt lost. You know? I am sure you have felt that way from time to time too right? I wanted to go on a walk to shake it off. Just a regular walk. 
I walked down to a familiar hub of bars, restaurants and coffee shops. The first restaurant I ever went to when I moved to LA was La Poubelle. I was the guest of one of the Evil Dead clan (also from Detroit, hence the connection)  who had brought me to a Hollywood movie premiere where we walked the red carpet and the stars were out in droves. I thought that was pretty cool for having only been in LA a month. The time between then and now quickly flashed through my mind. A lot to chew on. 
Long ago and far away now it seems. 
Le Poubelle's patio tho had a tarp hanging over it and was clearly blocked off for a reason.  There was a big doormen and a red velvet rope probably to keep the likes of me out. But I glanced up and saw this taped to the side of the tarp: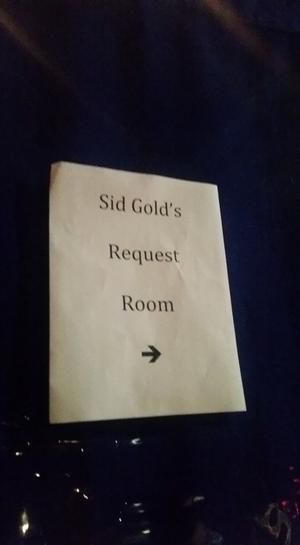 I recognized it right away and walked up the doorman "Is Joe McGinty playing here tonite by chance?" It was a long shot. Joe lives in NY where he hosts  star studded piano karaoke nights at Sid Gold's Request Room at Loser's Lounge . Yet it was LA and I was tired and confused but couldn't let it go. 
"Can you please find out? Its important" I said as endeared the doorman to me who kindly went inside to verify. 
I looked over at the very pretty girl holding a clipboard with the guest list. This was an invite only R.S.V.P. party. I had not been invited. She and I chatted while I waited. An actress. She looked great. I looked like I was in my pajamas. 
The doorman came out and confirmed that, yes, Joe was inside playing piano. 
What were the odds? Probably zero. 
Now how do you look cool while looking like a truck ran over you and explain to a doorman in LA that you kind of sort of know Joe tho you've never actually met him? 
You just do and not bother with how ridiculous you might sound trying to explain the tie to Joe and why it was so important I got let in. And you try not to look like an asshole while doing it. 
And so the rope got lifted and I waltzed inside a Hollywood party I had no business being at. (I might have felt differently had I at least had some make up on and a shower.) My friend the doorman said "I am letting you in because you are nice and polite. " Works every time even if it ruins my rock and roll street cred. 
So who is Joe to me and why was a downtrodden girl so taken with all of this? Answering the second part first: Because I needed a reminder. I needed to know any and all bs I might be encountering is 100 percent worth it. I don't believe in "signs." Nonetheless, this was a pretty glaring neon light. 
You see, Joe is the person I found John Ashton through via Facebook. Joe, among other bona fides, was a part of The Psychedelic Furs for some time playing keys.  I've never even spoken to Joe but he is a VIP to me for having lead the way to John. I knew from his posts about Sid Gold's and that is how I recognized the sign. 
John has suggested Joe to play keys on the record and there was no way, despite how I looked and felt, that I could shy away so I waited for the rope to lift and in I went. All I wanted to do was run in, introduce myself, say "thanks!" and get home. Once inside, I quickly met Joe (he was mid performing,) thanked him for everything and planned my escape. Brief but cool!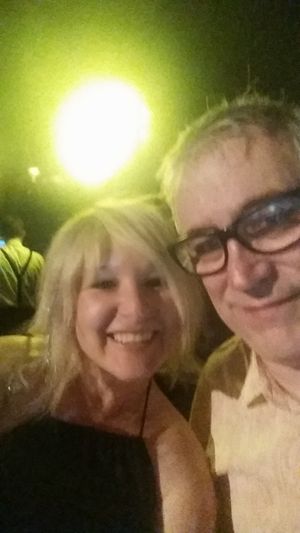 Perhaps not my best look but vanity takes a vacation when serendipity strikes. 
I stuck around long enough to strike up a chat with what were probably two of the nicest people, friends of Joe's who asked me to sing. 
"Ugh. Really? I am about to fall over dead" I thought to myself. I can barely speak let alone sing! 
I always want to sing. I did not want to sing that nite but I knew that moment was not going to happen again and even if I sang badly and I wanted to hide in a paper bag, getting up there was the right thing to do as I would have surely forever regretted my tiredness and vanity getting the best of me. 
So I waited  for a lot of sharply dressed (and surprisingly bra-less) LA ladies to sing, tried not to pass out on a cocktail table (and I was only drinking water)  and got up there myself. I sang Blondie's Dreaming which I used to cover back in the day when I was prepared. The friends I met thought I sounded great tho I did not. So great they kissed while I sang (Maybe they needed a pleasant distraction?) I am positive I sounded like someone who waited in a long line for an American Idol audition, Round One, who never stood a chance.  Don't know who else was there but Joe posted that Mickey Dolenz had been there too. I am hoping he was gone by the time I got up there. 
Anyway, finally had a moment to catch my breath and share this LA story with you. There it was. My "sign" to go forward no matter how I get to feeling on the dark days, no matter the barriers. I felt renewed and somehow acknowledged I was and am on the right. Track.  Just keep going and doing what I'm doing. 
John and I chatted briefly the other nite. We agreed that the roadblocks that have popped up are any indication this will be "one hell of a record." 
Fast Forward. 
Between that night and today, Joe has indeed become a vital part of the new songs playing keys! As time went on John and I added all of the players you can see here. And, yes, when you hear the parts where PFurs musicians appear together it is unmistakable and very, very cool. 
Today. 
Shortly after my mom passed away last November, Joe told me he was opening a Sid Gold's right here in Detroit! To be honest, I had forgotten about it until last night when he mentioned it on a FB post of mine. I had only forgotten because when someone you love dies you forget a lot of things. Sometimes even your own name. But, right along Woodward Avenue, within blocks from clubs I'd haunt back in the day, figuring I'd never see those kinds of days again, will be his new Detroit location which opens mid May. I've been invited to play there when the time comes.
I am going to go out and meet strangers just so I can walk by and say "That guy? Yeah, oh , he's plays on my new songs. And, if not for him, I may never have met John and gone on to work with all of the great musicians. In fact, the songs may never have gotten made. So, he's kind of an important guy in my life." Then, of course, I will ask if they'd like to grab a coffee and hear a story.
What a thrill that would be! Dear to my heart is how much it means to me to know there is a light at the end of the tunnel and that no matter where you are in the world, you have friends and even when you lose out and get lost , you can always find yourself again. I am excited for Joe and excited for me. Whoda thunk it? Really warms my heart that when I left here ages ago I actually got done what I set out to do. With more to come...Clearly, it isn't over. They say no matter where you go there you are. So true.
Life is beginning to look bright again. A few more things to go and I will release the first single.